Architecture
Savvis Symphony VPDC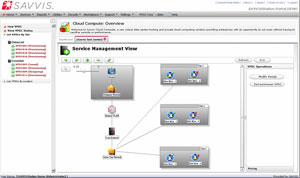 Savvis Symphony VPDC provides a number of dramatic enhancements to deliver on the true promise of cloud computing. The VPDC delivers a powerful capability for defining, configuring, and deploying a full virtual data center without having to procure, install, configure, or manage any hardware. A VPDC can contain a complete set of enterprise data center services, including compute instances of varying sizes, multiple tiers of storage, a wide variety of security features, high-performance, redundant bandwidth, and load balancing. This provides a major leap from virtual hosting environments that emphasize just the compute instances.
Savvis Symphony VPDC also introduces multi-tiered service profiles that provide a set of predefined, selectable service levels to optimize the cloud for a variety of applications, features, complete redundancy, and storage. This provides a key enabler for the application lifecycle: Test/development, quality assurance (QA), Web hosting, and enterprise mission-critical applications all have unique requirements. Each VPDC can be created with a specified service level that is optimized for its intended use case. As the application in the VPDC later progresses in its lifecycle, it can be promoted to a higher service level to address new production requirements.
Built on cutting edge VMware® virtualization technology, Cisco virtual fabric technologies, and a best-of-breed hardware platform, Savvis Symphony VPDC is designed to deliver what other vendors' cloud computing services have not — true enterprise-class computing, massive scale, and advanced enterprise services — but achieved at the cost points promised by a shared virtual cloud solution. Savvis' 24/7 Support Center team provides the proactive monitoring, alerting and support to provide a cloud solution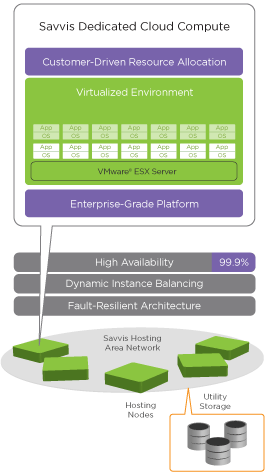 Savvis Symphony Dedicated delivers a fully dedicated virtualized compute environment hosted from our state-of-the-art data centers and managed by our hosting professionals.
We Focus on IT Infrastructure So You Can Focus on Your Business.
Our innovative global infrastructure is Built to RespondSM with the systems and environments needed to provide scalable, reliable and secure infrastructure services to you and your organization. We focus on the right solutions for your business - from managed hosting to cloud computing. Solutions that address your specific business needs, allowing you to quickly implement and scale as your business grows and technology evolves. Leveraging our infrastructure will allow you to focus on your core business while Savvis ensures the quality of your IT systems and operations.
Eliminate the cost of building, configuring and maintaining infrastructure
Eliminate long lead times on the procurement of equipment and updates
Eliminate the need to deal with breaks, fixes, patches and system monitoring
Increase your speed, agility, and flexibility
Focus your expertise and skills on growing your business
Provide a strong user experience without latencies or compromises
Using virtualization technology powered by VMware, your Symphony Dedicated solution can be partitioned into multiple self-contained virtual machines, each capable of running its own operating system and set of applications, dramatically reducing the high cost and management hassles that accompany server sprawl.
Once deployed, you can easily add instances automatically through the SavvisStation Portal. Whether you're supporting seasonal site traffic on your web site, or expanding your test and development environments, Symphony Dedicated can dramatically improve operational efficiencies while reducing the total cost of ownership (TCO) of having an enterprise-class environment dedicated to your needs.
Savvis Symphony Open is built on a massively scalable, multi-tenant infrastructure and delivers a secure, enterprise-class cloud environment with built-in high availability and automated resource balancing.
Symphony Open offers you the freedom of choosing a "right-sized" compute environment with a purchase-by-the-instance cost model. Add flexible month- to-month terms for each instance and you'll find that Symphony Open delivers one of the highest levels of true utility computing in the market today.
Ideal for production and pre-production environments, We provide a scalable, agile infrastructure that gives you control through the SavvisStation Portal to add resources as you need them — in a matter of minutes, not days.