© 2015 CenturyLink. All Rights Reserved. The CenturyLink mark, pathways logo and certain CenturyLink product names are the property of CenturyLink. All other marks are the property of their respective owners.
Programming for

PaaS

A Practical Guide to Coding for Platform-as-a-Service
By Lucas Carlson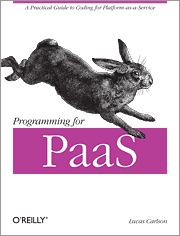 Publisher: O'Reilly Media
Released: August 2013 (est.)
Pages: 120




About the Book

Among other advantages, this book will give you:

An explanation of the confusion between core cloud technology vs cloud-powered apps like
Gmail, Dropbox, etc

Review code examples of app changes

A look into the Real life PaaS case studies

A lesson about the tradeoffs between portable and non-portable PaaS systems

An overview of mobile apps on PaaS

About Savvis

Savvis, a CenturyLink company, provides industry-leading IT infrastructure solutions that keep enterprises powered for business in today's ever-changing global marketplace. Combining deep, proven experience with personal commitment, Savvis delivers cloud, colocation and managed-hosting services over advanced networks, enabling its clients to focus on their core environments and meet new market opportunities.


About AppFog

AppFog, acquired in June by CenturyLink to enhance its Savvis Cloud solutions, is a fast-growing Platform-as-a-Service (PaaS) provider used by more than 100,000 developers – with hundreds joining daily – who have deployed more than 150,000 applications. Offering multiple programming languages and interoperability between public and private cloud environments, AppFog delivers a reliable, scalable and fast platform for deploying apps in the cloud.
This e-book is no longer available.